Shamanic Journey – Meditation  
Are you ready to feel a deeper connection to Spirit? Inspired to let go of what is no longer serving you? Would you like to experience a peaceful, relaxing meditation that involves the elements and Shamanism?
Join us for an evening of Shamanic Journey.
Wednesday, December 11th
7pm
$25
7495 West Azure Drive, Las Vegas 89031
Dress comfortably.
Bring a blanket or yoga mat and a bottle of water.
Sign up at the door or guarantee your reservation online at:
https://intuitiveangelsBOOKNOW.as.me/?appointmentType=12137056
We will be celebrating the Holiday Season with some super awesome sales and services!
Join us on Saturday, December 11th from 2pm – 6pm at 7495 West Azure Drive for a HOLIDAY EXTRAVAGANZA!
Here's some of what you'll find at our event:
* NEW RETAIL ITEMS – crystals, card decks, jewelry and clearing kits. All of our crystals are specifically cleared and imprinted with Reiki, Huna and Sound Healing.
* SALES ON SERVICES – we will have exceptional discounts on services by Danielle Garcia: Intuitive, Medium, Spiritual Counselor that will only be offered at our event.
* FREE READINGS & REIKI – take some time to pamper yourself with mini sessions of Intuitive Readings and Reiki
* DEMOS OF SERVICES BY DANIELLE – Readings, Mediumship, Energy work and more – live interaction with members of the audience
* GIVEAWAYS & TREATS
* STAY TILL THE END FOR THE ANGEL WALK – YOU WON'T WANT TO MISS THIS!
RSVP ONLINE at: https://intuitiveangelsBOOKNOW.as.me/?appointmentType=12137381
Everyone who RSVP's online is entered in our raffle to win a prize.
December Spiritual Circle & Crystal Exchange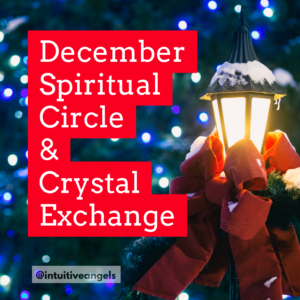 Join us for the December Spiritual Circle!
THIS IS A FREE EVENT
This month's circle will be centered on connecting to our loved one's who have passed. Psychic/Medium, Danielle Garcia, will lead us through a meditation to connect us to loved ones on the other side. It's never an easy time when we are missing those who are no longer with us, but the holiday season seems to be more difficult of a time of loss for many.
In addition, we will be hosting a crystal exchange for those who wish to participate. Bring a stone or crystal you're willing to exchange and join in the festivities. We will do the exchange old school style (think white elephant) and everyone who participates goes home with a new "friend".
Friday, December 20th
6:30pm
7495 W. Azure Drive, Las Vegas 89031
RSVP online at:https://intuitiveangelsBOOKNOW.as.me/?appointmentType=12137866
You are welcome to register at the door that evening.
Love offerings are appreciated, but not necessary.