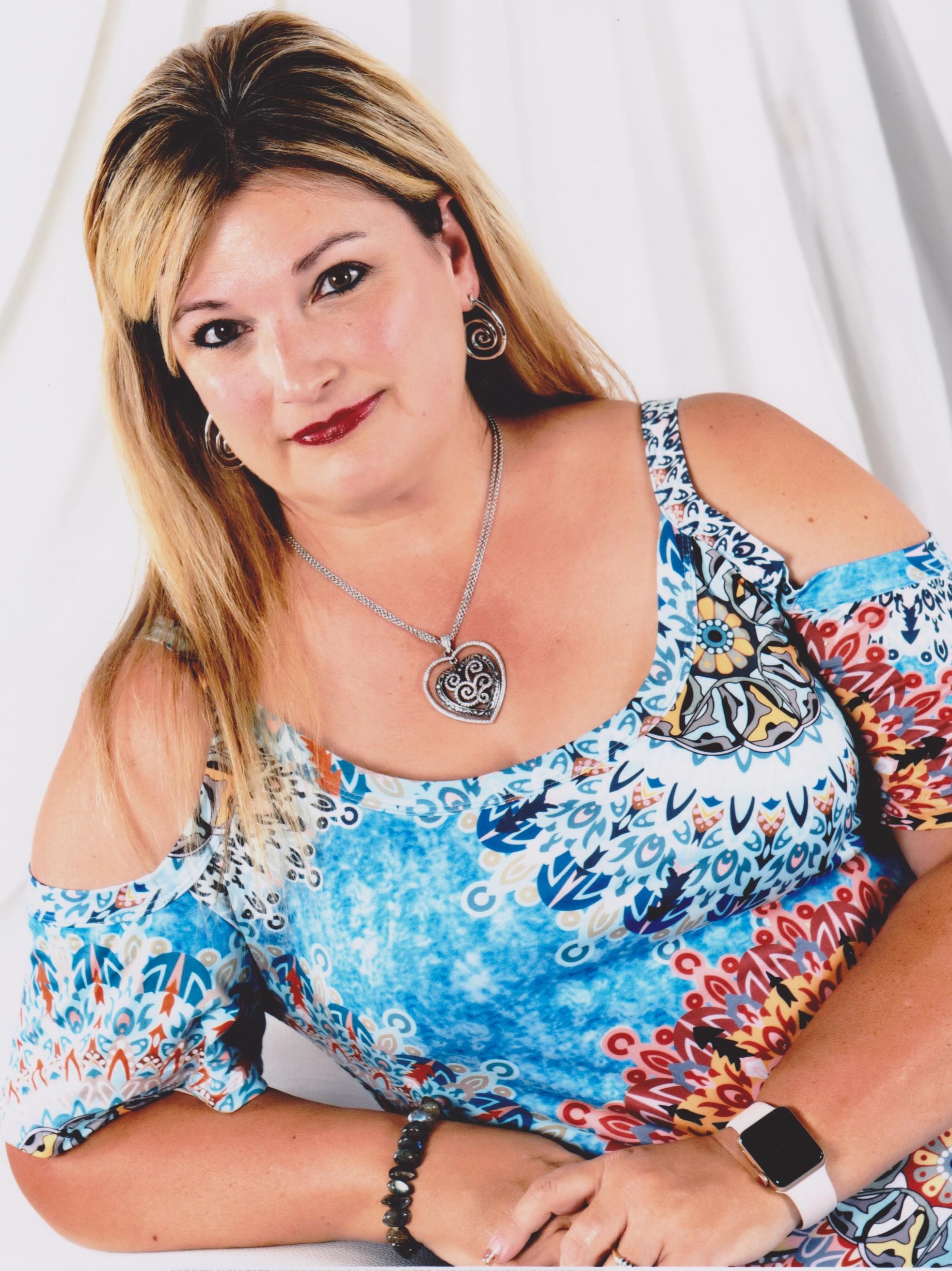 Read What People Are Saying About Working With Danielle...
I have worked with, learned from, been mentored and coached by Danielle Garcia for the better part of a decade. I count her among the few "real deals" in the realm of intuitive abilities. Her humility about her skills can be a bit disarming at first, and when you realize the level of depth she has, it makes one develop a healthy curiosity about what's possible. She is kind, patient, funny, sarcastic and occasionally very direct in her readings. She is an excellent teacher, trainer, coach and mentor. I look forward to watching what Danielle has in store for us next!
Danielle Garcia is an extremely gifted intuitive and healer. In a recent session, she immediately picked up on a situation in my body that was causing me significant pain. She tokd me what was causing it. She then worked on me energetically. Since our session I have been pain free. I gained new insight from Danielle as to how our emotional and physical bodies interconnect. I would recommend Danielle to anyone who is seeking spiritual guidance. She is very loving and supportive.
Danielle's readings are extremely spot-on. She is an amazing and clear channel from the angels who is also very compassionate and non-judgmental. Her guidance has been of decisive assistance in areas related to financial investment, family relationships as well as matters of the heart. I feel truly blessed and very grateful to have been able to benefit from her unique gifts!
Danielle is always helpful at illuminating the path, sharing from a place of unconditional love and channeling only energies and beings of light. I've learned many things over the years as a student in her classes. If you have little to no knowledge of this kind of work or are an advanced light worker I guarantee you will learn something of value from a class or session. Whatever the goal is going in she will unmask personal potential and reveal the root in any given situation to help facilitate the freedom that comes along with being aligned with our soul purpose.
I've had the pleasure of having Danielle, come to Enchanted Forest Reiki Center, Spiritual Items 'n More L.L.C, to teach classes here for nearly 4 years now.
She has taught classes on everything from how to read oracle cards, empowerment, multi-dimensional healing, soul retrieval, channeling, medium-ship and a multitude of other classes.
Danielle has held many group channeling and reading events which I myself attended. In fact her channeling's with Arch Angel Jophiel still to this day are some of my all time favorite events we've had here. Through Danielle's channeled messages of Jophiel I was able to receive deep guidance on some important aspects of my personal life as well as my business.
Each and every class Danielle has taught here at Enchanted Forest has always had rave reviews from the students.
Danielle is not only the ultimate professional, but she is an incredibly gifted teacher and healer.
She has been a blessing on so many levels for our center.
Danielle's deep dedication to her craft, overwhelming love for her family and compassionate heart, are just some of the aspect's of this beautiful woman.
Thank you Danielle for being so authentic, and sharing your gifts with the world.
You are a blessing.
If you're looking for courage, comfort and inspiration in the search for your truth, Danielle is that light in the dark to help you find the way.
Danielle's insight is spot on, and her connection to spirit amazes me. Her readings are in depth and accurate.
Danielle is very compassionate and accurate in her spiritual work. She graciously gives back to the Universe and has been given the gift of many spiritual channels. An uplifting experience.
Danielle is one of the best readers and healers I know. In one session, she gives you a higher perspective on what is going on AND helps you clear or heal the energies that are keeping you stuck. Her sessions are powerful, loving and filled with humor. Highly recommended for anyone who is looking for clarity and/or healing.
Danielle Garcia is a fine example for a healer. She cannot only heal with her touch but also through her words. Danielle is a true, honest loving person who shows so much compassion towards others and for this world. I have had the pleasure to be at the receiving end of Danielle's readings. And I found that not only was she 100% accurate she allowed me to self-heal myself. Danielle has a pure gift of joy and she leads you on a journey of oneness as she heals and reads for you. She whispers words of wisdom to you so gently that you could melt at her feet. Danielle puts so much time, effort and love into her work you will notice this as you read her words and feel her touch.
In my sessions with Danielle I became aware of the delicate balance that she maintained between responding with compassion and having a broader and higher perspective of the situation.  She was able to assist me to see things differently and to allow my own powerful response to emerge.  Additionally, she affirmed and encouraged my intuitive perception, which previously I had a tendency to doubt.  Danielle "holds the space" for our own highest potential.  She is truly an "Angel on earth" that lovingly holds her light high so we can see the direction that we need to go. You are dearly loved!
I first met Danielle at her Hugs4Healing event. Little did I know that brief session would completely change my life.
Her reading was incredible and I knew she was the real deal. I was aware of my gift to "know" things, but never embraced it fully. I was definitely not at the level she was. I was amazed. I continued getting readings from Danielle and every time, she was right. She has helped me through so many things, in so many aspects, just from her readings. It was this that inspired me to join her teachings. 
She taught me how to manage the emotional rollercoaster that my senses took me spiraling on. I learned how to focus on the answers to whatever question was at hand. Her course has molded me into a being I never imagined I could be. 
Where I once forced the "voices" out, I now listen intently and follow. My mind is stronger. My intention is bold and confident.
I could go on and on about how wonderful Danielle is and how fortunate we all are to have her treading life amongst us. My words can continue to spill, telling you what she has done for my mind, body, and soul. But it wouldn't be enough.  
So I leave you with this. If you truly seek guidance in following the right direction, talk to Danielle. If you experience things that most refer to as "unnatural", see Danielle. 
A lot of us feel "lost" and "broken". Danielle can show you your possibilities, allowing you to put yourself back together. 
I love you, Danielle. Thank you for all you have done, all you do and all the things you will do.
Danielle Garcia is one of the kindest and most compassionate people I've met in this, or any other, business.  She listens without judgment, and has amazing intuitive insight to help you with whatever concern you have.  She has helped me immensely with Angel messages, spirit communication and a bizarre incident I experienced while meditating.  I truly feel blessed to know her!
I can safely say that I'm 100% amazed! It's simply incredible how dead-on accurate you were! I dropped my jaw as I read this a good numbers of times 🙂 I cannot thank you enough for this. This reading was absolutely what the doctor (but I guess I should say the angels!) ordered. I will definitely be your customer for a long long time!
I have worked with Danielle a number of times and have received wonderful and insightful results. I have recommended her to other friends and family members who have also loved her. She brings a sense of calmness and comfort to the room when you are with her and that is exactly what you need when it comes to a Spiritual Counselling session. Danielle is a friend but is also an extreme professional. I would recommend her to everyone.
I experienced both the live and online version of the Intuitive Angels class and found them both the be very helpful. With the in-person class, I enjoyed connecting with other students and the opportunity to really feel what it was like to do the energy work in each module. With the online class, I enjoyed having quick access to the videos and articles whenever I was in need of a reference or clarification. It was too hard to choose a favorite. I learned something significant from each one.
I appreciate that Danielle is a competent instructor as well as a gifted healer. I have experienced effective healers who were terrible teachers. The hands on training and written materials for the Intuitive Angels course were put together in a way that really expedites your growth. There is plenty of visual, audio, written and hands on exercises to fit a variety of learning styles.  
I used the Mediumship class tools to connect with my deceased loved ones and to do readings for others in person and online. I used what I learned in the Angels and Archangels workshop for daily guidance and to transcend a difficult financial situation. I used the tools in the chakras workshop to enhance my ability to use pendulums and crystals both work and business. 
The biggest thing I gained from the class was confidence in my ability to consciously connect with Spirit. I learned to trust my intuition. I was also empowered to continue my life journey in a way that feels more authentic and joyful. Many of the tools I learned from Danielle have become part of my daily ritual.
Danielle is a loving, intelligent and humorous soul who has great capacities for spiritual vision and wisdom, as well as teaching these things to others. She is able to accurately look into the deepest crevices of a person's soul and then she skillfully imparts knowledge, healing, clearing and great love to her clients, helping them work through issues that are keeping them stuck and to find personal empowerment to move in whatever direction they desire.
Danielle's work is vital, healing and energizing to the spiritual growth of her clients. She cares deeply about her clients and is always in the business of helping them to grow. In addition to her one-on-one work, in the role of teacher and leader, she regularly draws together groups, sometimes large groups, sharing her knowledge, techniques and experiences freely and with fervor. She always deals with others from a space of great love and support. Her energy is contagious and she helps us be better people, just by being around her.
Sometimes, when you plan to take a trip somewhere, it makes sense to hire a guide, someone who's been where you're going and knows the way. Someone who can make the trip enjoyable, who can take you there and bring you back safely, showing you what's important, exciting, interesting, and helpful. In the world of spirituality and multidimensionality, Danielle is such a one.
Gifted with inner eyes to see that which many of us cannot yet see, or have difficulty seeing when it affects us personally, Danielle guides with a pure heart and deep understanding.
If you are looking for a guide on your journey of self understanding and personal growth, you will not find a better mentor or facilitator than Danielle. Not only is Danielle gifted herself, but she lovingly oversees the expansion of her own equally gifted children.
I met Danielle Garcia over 4 years ago. She was recommended by our friend Amy Barilla (The Reiki Gal, LLC).  We had a reading with another medium in the area over 13 years prior but she no longer resided in the Las Vegas area.
 My husband and I scheduled a reading with her and I was beyond stunned when she connected with my high school sweetheart who had passed away 37 years prior when I was 17 years old.  She proceeded to tell me about his accident, his internal injuries and what eventually took him from us at a very young 18 years old as he stated he was aware there were many questions about his passing.  I was also told he was pleased that I was still in touch with his family after all of these years.  All TRUE. There was NO WAY IN HELL she could have found out any of that information prior to our reading. Wow!!
 Since then my husband and I visited her during times of job loss, successfully selling our home and ultimately dealing with the death of a beloved nephew who died tragically and my own brother's illness and transition.
 We asked her for guidance when my husband searched for new employment, a move out of state and eventually we needed her loving guidance when my husband of over 35 years became ill and quickly died from ALS/MND. This beautiful gift from God was there to provide my husband, children and myself with her gift of healing during his final days on this plane.  She has brought my children and myself much comfort as we deal with my husband's recent death.
 Danielle has been such an important part of our lives that I consider her as family.  I am so grateful to have been a recipient of such life changing guidance and healing.  I share with everyone I can how much she has made a difference in our lives and I am happy that many friends and family have benefited from readings with Danielle. 
 I have attended a few of Danielle's classes and will certainly attend more as I can.  I enjoy her Intuitive Angels FB page as she passes along "teachable moments" from some of her readings with others. 
There are many who do not believe that anyone could genuinely possess such gifts as Danielle's.  I truly believe she and many like her are here to help us understand that we are spiritual beings navigating a human existence as best we can.
I had the great fortune to find Danielle who helped guide me through a time of great personal distress and health challenges. She is a superb spiritual counselor very knowledgeable, compassionate. Quite frankly: "I am not sure I could have done it without her.
You are a wonderful teacher and mentor. I greatly appreciate and enjoy receiving your weekly channels, as they always seem to be a perfect fit. Thank you so much!
Danielle Garcia, is an amazing, Intuitive, Spiritual Teacher, Author, Channel, and Medium. Danielle has held a quite a bit of workshops here at The Spirit Within U she is always a great to listen to and watch.
Danielle is a talented and wise channel and intuitive. Her words of wisdom often bring aid and comfort to others. She deeply cares about people and her great desire to help others is readily apparent. I trust her completely.
Over this past weekend I received a psychic reading from a woman named Danielle Garcia. Some of you may know her son "Adam the Crystal Grid Maker" from Spirit Science. This reading was by far and away the best, most helpful & easily the most accurate personal reading I have ever received.
Let me state now that I am not a personal friend of Danielle's. We have only briefly interacted on a professional level a few times. But I have been blown away by her uncanny abilities and feel the need to share her services with all my FB friends. Let me also state that she is completely aligned with the Law of Love & Oneness unlike some other gifted psychics who may take a more neutral spiritual stance. I personally believe her advanced soul to be from the Angelic realm. Her abilities go far beyond just psychic readings, she can cast out negative beings, do energy healing work & much more. You can visit her websitehttps://intuitiveangels.com for more info.
It is also my personal and professional opinion that Danielle Garcia's talents are far too good to be kept from the masses. I have a strong intuitive hunch that she may be found on your t.v. sets before too long. I would say she is as at least as good as, if not better than many famous mediums/channelers such as: Lee Carrol, Silvia Brown, Matt Kahn, Theresa Caputo etc….
Her rates at the moment are quite a bargain, so I would suggest if you or anyone you know who may be interested in getting a reading to do so ASAP. As I'm not quite sure how much longer her rates will stay that way. You can make an appointment by following the link to her web site below. And she DOES OFFER PHONE READINGS, so for those of you half-way around the world you can still get a reading, and as far as I know there is little to no waiting list at the moment.
Danielle is absolutely amazing! I first contacted her out of curiosity because I didn't know much about energy healing. She did a 30 minute session with me and it was incredible! Even though it was a distance session it felt like I was getting a superficial effleurage. What she told me after the session was dead-on.
I was so impressed with Danielle's work that I took her Intuitive Angels certification course.
She also closed portals in two different apartments for me and helped my brother with a spirit that was attached to him.
What's unique about Danielle Garcia's Intuitive Angels classes is the way she engages with each student on an energetic level. You can feel her energy, along with that of her guides and angelic team inside your energy, supporting and encouraging you, as you open yourself up and connect with your gifts. When you are held in that space, there is no fear, no excuse, no failure. It's just you and your connection to Spirit.
And the magic doesn't end when the class is over. Danielle generously commits to her students' long-term success by marketing their services, offering public practice sessions and providing endless guidance and encouragement at the level they each need.
When you take your first steps with Intuitive Angels, you will immediately know you have found your path.
Danielle is blessed with many gifts and one of them is the ability to clear spaces.  She's not only an empath, but can see beyond this dimension, so when she physically enters a space or energetically (long distance), she can see and feel if the home, office, etc. needs to be cleared.  She will clear it and bring in love and light and totally change the energy of the space.
So many of us are grateful to have her in our lives.
I'm forever grateful
Danielle has been my saving grace throughout many years now !! But especially through the last 4 years.
She had been clearing my house and boy did she help me get rid of some bad energy that had been worrisome to me and my daughter.
Whenever I needed help, answers, Danielle was the one I reached out to and she always was right on the "money"!!
But her most precious gift that she has was shown to me was when my daughter fell ill with brain cancer. She was losing the fight; she ended up at home on hospice. When my daughter was in her last days, I reached out to Danielle because my daughter had lost the ability to communicate for months.  I also needed to know if she was scared to make her transition! Danielle was able to communicate with her !! Because of Danielle I found out what my daughter would Iove for her service, how she would love her service!! Also Danielle helped me to be ready for my daughter's transition! She guided me through this by giving me the messages from my daughter, giving me the comfort of knowing that she wasn't scared and that loved ones were waiting for her.
Danielle has been there for me throughout the last 2 years, having my daughter communicating through her!! And boy, every message was definitely from my girl!! Because of Danielle, I can deal with the loss of my child so much better! And I feel my daughter is around me every day!
Danielle is truly gifted and her services have helped me through the worse nightmare a parent can ever go through!!
Thank you Danielle!!
Danielle Garcia is a gifted intuitive with the ability to share the wisdom that she receives in a very relatable way. She is a talented teacher whose students have tapped into and strengthened their own intuitive abilities. She is a joyful collaborator and a welcoming presence to all who encounter her.
Danielle,thank you for your insightful readings. They are filled with wisdom and depth, and truly reflect on one's inner state. I am so happy and grateful that I have found a spiritual 'consultant' in you. Your kind and profound words have been offering me guidance when I really needed it most in both personal life, as well as in business.
I want to thank Danielle for a wonderful reading. Danielle has the ability to connect with the angels and relay their messages of love and hope. Danielle is a warm, compassionate woman who is deserving of all that is good. Thank you for this wonderful reading.
All your classes, were great!  Danielle, your teaching skills are perfect .  You have many gifts, one being your ability to share your information lovingly.  I thoroughly enjoyed Intuitive Angels Classes and wish for more.   I have learned, it is not all about I, It is about we and what we can do to help support and strengthen the Universe (baby steps) in a positive way.
Whether you are looking for a hug from beyond the veil, an insightful view of yourself from an angelic perspective, or simply a healing touch of love and support ; and you wish for yourself the softness, the endearment, and the compassion of the angels; then look no further, you have been divinely guided to this site.
My life has been blessed by receiving a channel from Danielle. I was deeply moved by the preciseness of her words, and the accuracy with which she saw me. The channel, woven in a delicate narrative that is steeped with Danielle's pureness of heart, integrity and passion, gave me back a piece of myself.
I feel empowered by this generous, gentle Diva. She is a beautiful inspiration to us All. I wish for each of you reading these words to gift yourselves at this time with the whisper and the touch of an angel. Why wouldn't you?!
Danielle is leading the multi dimensional way for sure. 
From her own experiences she shares concepts and gives tools to humanity for an empowered multi dimensional life. 
Born with a huge sensitivity she is a fore runner for the young ones that are coming to earth right now. 
Using her intuition she creates clarity and safe space where no man has gone before. 
She walks her talk with integrity and knows how to ground her lessons for us all. She truly is a blessing for humanity.