An Unforgettable Mother's Day Experience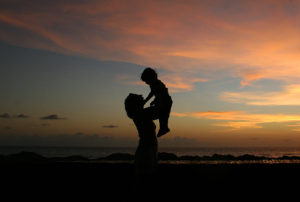 Each year, when Mother's Day comes around, I am reminded of an experience I had several years ago.  I wrote this article for a magazine and share it with you now in honor of all the Moms out there who care so deeply for their children.
 
---
A Mother's Love Never Ends
My Mother's Day experience a few years ago was one of those "ah-hah" moments that God so wonderfully puts in our path to teach us life lessons of love and wisdom.  Every year when Mother's Day comes around, I am reminded of this event that so deeply impacted my life.

My husband was scheduled for an 11 hr shift at work putting him out of the house from 10am until 9pm.  This did not leave much time for us to celebrate Mother's Day as a family, meaning more specifically him keeping our three kids in line while I was able to relax.  I was disappointed, but completely understood and was concentrating on the fact that my wonderful husband took an entire week off work the previous week so that I could attend a seminar.  I continued throughout the day to try to push that "being a girl" side of me away – you know the one – that overly sensitive, emotional side – well, that did not work!  Trying to push that away only attracted those feelings to me more (Oh – don't we all LOVE the LAW OF ATTRACTION!).  It was like trying to keep the bar of Dove Chocolate away from the PMS victim – it was NOT going to happen.  So I spent a good deal of my day being angry, feeling sorry for myself and listening to the kids fight, which I am sure was more than triggered by me being depressed.  I was not in one of those "love and light" type of moods, if you get my meaning.

My husband called to see if we would meet him for an early dinner at an Italian place near his work. We went and the restaurant was closed!  Mother's Day dinner was taco shop for me, but at least I did not have to cook!  On the way home from dinner, we passed by the site of a horrific car accident that happened a few miles away from our home a week earlier.  The area where the accident had happened had been turned into a memorial with candles, balloons, and flowers.  As I passed, I saw him again just as I had seen him in the few days previous to this one.  There stood a little boy, looking lost and confused, just staring at the memorial.  I knew he was lost.  It did not register to him the extent of what happened and his soul had gone into shock, not able to cross over with the others.  Being a medium, I see spirits and feel them, but do not always go out of my way to help them cross.  At times, this is their lesson to remain earth bound, so it just depends on the energy.  Some have unfinished business, others are stuck.  As this is a planet of free will, I do not take it upon myself to help all spirits I might see to cross over.  That would literally leave me exhausted and depleted with no time for my own life.  This boy, however, tugged at my heart.  As I passed by, I promised myself I would come back that evening, after things had calmed down with my kids and see if I could help him.

I returned later that night to still find him there, standing near the balloons and flowers.  I pulled off the road and onto the dirt lot where the memorial was placed.  One single candle was still burning.  It was surreal.  I had found his name through some research, as well as the name of his mother who had passed in the car crash.  He stood there listlessly staring at the street where the drunk driver had hit his family's car.  Flashes of the accident went through my mind – the moments before impact when the children were laughing, when the mother and her sister were discussing their plans.  I saw the force of the collision and the SUV spin out of control, flip and burst into flames.  I heard the screams of everyone inside the car.  I knew as I saw these visions, that this poor child was seeing the same scene, played over and over.

Tears came to my eyes as I called in my guides and the Arch Angels Michael, Gabriel and Jophiel to assist me.  I asked Gabriel to make a vortex of light so that the boy could see it and pass through onto the other side.  As I spoke to the boy, he was unsure of what was happening as he moved toward me and walked in my direction.  I explained that his mother was waiting for him in heaven and that all was fine.  He saw the light and stepped towards it but was still hesitant.  I began to speak the words "I love you" in his language as his Mother reached out her hand to accept him into this tunnel of pure and divine love.  They embraced and looked over at me one last time as if to say thank you and then the tunnel closed.  I knew he had crossed and that his soul was at peace.  It was a beautiful and loving experience for me.  So many lessons I learned that Mother's Day.
I have learned that the most loving gift and lesson I can ever have is to help another.  I have learned that when I get so wrapped up in my own "stuff" the best way to get out of it if to assist someone else.  The most precious thing I think any of us here on this planet can do is to serve others through love and compassion.  That can be through a smile, a touch, loving energy, watering a plant, patting a pet on the head or simply speaking the words, "I Love You".  Know that we ALL make a difference here. We all have the ability to express ourselves through love and light.

This has taught me to be so grateful for what I do have in my life, and not concentrate on what is "missing".  Please, give your children an extra hug today and know how blessed we all are for having them in our lives.
~*~

On a side note, a year or so later, I was at a dear friend's home, who happens to be a healer.  I had a session with her in which she took several photos during the healing.  As we sat at her table while she uploaded the images, my eyes fixated on a photo laying in front of me from a session she'd given previously.  I recognized the person (in spirit)  in the image immediately.  The person in the photo was the boy's mother.  She was in the photo, hovering above a man laying down on the healing bed.  It looked as if she was comforting him.  When I asked my friend about the picture she explained that this man's family had been killed in a drunk driver car accident.  He had come to see her before he left the country to hopefully release the guilt and grief he'd been feeling.  I know with all my heart that I was meant to see this picture.  It was one more confirmation and a feeling of gratitude ran through me.

God gives us no coincidences.  It is up to us to see things as they are and revel in the miracles that surround us.

Happy Mother's Day to all.